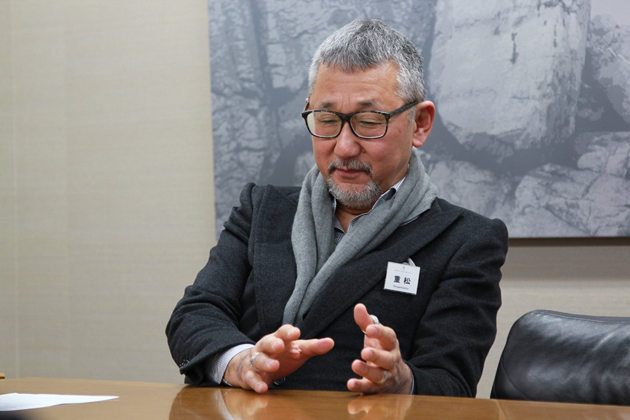 Interview: UNITED ARROWS LTD. Chairman and Director Osamu Shigematsu
UNITED ARROWS LTD. and BEAMS are two of Japan's largest select shops (specialty stores.) Between the two, UNITED ARROWS LTD. was the one which expanded and generated the select shops industry in Japan. Though the numbers of stores are increasing, they do not fail to satisfy the customers and allure the fans. "Why does our company exist?" The company's philosophy is passed down to all the staff members and we decided to discover the true essence that gave way to a new era.
We discussed the philosophy everyday
JAPANTWO(JP2):After having established your company, please tell us what concepts and essences went into creating the rule in order to realize your philosophy; "our stores are for our customers".
Osamu Shigematsu (Shigematsu):Included in UNITED ARROWS LTD.'s corporate philosophy is the value "THE STANDARDS OF JAPANESE LIFESTYLE". This value has remained unchanged from the very moment we founded the company to this day.  You could even say that it contributes to society and direction with respect to our business activities.
In actual fact, we only started to use the phrase "our stores are for our customers" two years after the company was established. What I imagine fashion to be is the "clothing" for our three basic needs – food, clothing and lifestyle – and it's with this in mind that we try and fulfill our customer's satisfaction. I believe our mission is to deliver the words we use often – "dress fashionably".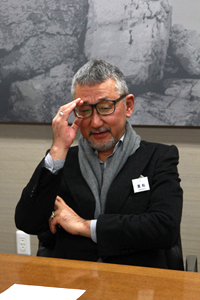 JP2:There are currently over 100 stores, so how do you fully convey this philosophy to your staff?
Shigematsu:When the company was founded there was only one store. We discussed the philosophy everyday in the morning meetings, such as why UNITED ARROWS LTD. exists, what we should contribute towards the company and what we should aim for as we work.
From then on, as the number of stores increased, our company philosophy started to crystallize, and so we put up a sheet of paper with the company philosophy written down on the backdoor of the store.
After recruitment and in the training for new employees, half of the time is spent understanding the company's philosophy. In order to serve our customers in store, we talk about our products and the techniques we require. Before serving at the counter, we only used to discuss "preparations needed for talking to customers" and "our purpose is to answer our customer's concerns" but this gradually broadened so that finally, it was written down and turned into a booklet. We still continue to train while using our philosophy in our company. These are the fundamentals of education, and the staff's comprehension of corporate philosophy. This is not exclusive to our own company.
What must never change with time
JP2:It could be said that standards change with time, how do you manage the current corporate philosophy "THE STANDARDS OF JAPANESE LIFESTYLE"?
Shigematsu: I feel that in the future, we should change our company philosophy to the motto "GLOBALLY IN USE OF STANDARDS OF JAPANESE LIFESTYLE". However, while the "clothing" we offer will no doubt change with time, there are still certain things "that must never change with time". The question of "what must never change with time" is what we come to think of as our basic standards.
The subtle sensitivity visible in the Japanese is not as common abroad
JP2:From a global point of view, you rarely see as many select shops as you do with your company. Why do you believe has support in Japan?
Shigematsu:One of the reasons why select shops are scarce in the West is that it was not possible to continue passing down techniques for the stance or strength of select shops. These techniques could, to a certain extent, be considered vague. Therefore, without the ability to pass these on, what used to be select shops evolved into chain stores and were then unable to gain the support of the customers.
Another large factor could be that class isn't defined by brands in Japan. We live in a society where even high school students carry around brand bags. In the West, those who shop in select shops are generally from a wealthier background but there are fewer customers. These people also drift towards luxury brands and buy from single brand stores as the products are easier to buy and recognize.
I also suspect that the subtle sensitivity seen in the Japanese is not as common abroad. I personally feel that companies aimed to open select shops in the West, however, they did not become popular and therefore this type of industry and business condition became unique to Japan.
On the difficulties in global expansion and future developments
JP2:Do you believe the unique industry and business conditions are related to the difficulties in global expansion?
Shigematsu:I imagine that single luxury brands are easier to buy and recognize not only in the West, but also in Asia. Select shops are also considered as discerning, but combine that with customer service from those who know their products inside out and it becomes an asset. It is an issue we are facing when expanding globally. This is because those stores can say "this outfit looks nice if you combine these items" and they have the customer service, suggestion, and recommendation skills. We must also be able to provide the same kind of service.
JP2:Are you planning to open stores abroad?
Shigematsu:Regarding global expansion, we have already started wholesales in select shops of Hong Kong and are currently undergoing test marketing in Singapore. For us to genuinely progress forward, we should make careful decisions based on the global economy and market trends.
In Japan, we cultivate sensitivity and the ability to analyze values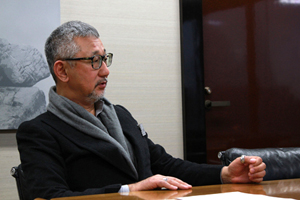 JP2:We talked about global expansion earlier but what do you believe is the appeal of Japanese fashion and its difference with fashion abroad?
Shigematsu:The appeal of Japanese fashion is the diversity achieved from having no class differentiation. This diversity is also what differs from fashion abroad. I believe that in Japan, everyone in this social structure has the ability to analyze something and through this, cultivate sensitivity and the ability to analyze values.
This is extremely invaluable. How can we export this overseas? To convey the Japanese characteristic of aun no kokyu (lit. attunement between two people without words or gestures) is extremely difficult. From the foreigners' point of view, I imagine this concept of aun no kokyu to be problematic and difficult to understand.
Receptiveness to both "food" and "lifestyle"
JP2:In order to lead the Japanese fashion industry, what else besides fashion do you value on a daily basis?
Shigematsu:While we offer "clothing" out of the three basic needs, we are consistently receptive to both "food" and "lifestyle" There is such a wide range of styles to living. I go to housing exhibitions or see new spots, even go to places with intensive collections of people's lives such as museums, art museums and Japanese gardens, and I want to be able to pour everything I felt from those places into fashion. I am constantly aware of the trends in the entirety of my life and I always cherish them.
Fashion became the "comfort" and "energy"
JP2:Last year we experienced the Great East Japan Earthquake, a disaster we had never before experienced. They say that the earthquake drastically altered Japanese people's perceptions but how do you feel it affected Japanese fashion?
Shigematsu:Roughly a year ago, Japanese customers were suffering from the pent-up demand of the prolonged deflation. Immediately before the earthquake, customers were starting to reach out to fashion they considered were one rank above them. It was at that moment the earthquake struck and I can truthfully say, it was a direct blow to the fashion industry. While we mourned those in the affected areas, another necessity was for the stores to offer customer satisfaction. This would shorten Japan's recovery time and restore the Japanese economy.
Therefore, the fashion industry was affected for three weeks, and then started to recover in the fourth. Why is it that we started to recover? There is no obvious reason. We have yet to come to a conclusion but I feel that perhaps one reason is the change in value. I believe that fashion became "comfort" and "energy" for people.
A message to the readers abroad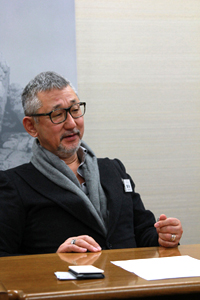 JP2:Finally, please give a message to the readers abroad.
Shigematsu:In order to realize the philosophy "THE STANDARDS OF JAPANESE LIFESTYLE" we offer a collection of products to our customers regardless of their nationality. In Japan, we have the subtle sensitivity which is unique to the Japanese and there still remains an environment and background for creativity. In this environment and through fashion, we endeavor to offer the maximum satisfaction for our customers. Please look forward to seeing more from us in the future.
Osamu Shigematsu Chairman and Director of UNITED ARROWS LTD.
Born on December 4th 1949 in Zushi, Kanagawa. In 1973, after graduating from the Faculty of Economics at Meiji Gakuin University, he worked at a company producing womenswear. Afterwards in 1976, he submitted a project proposal to set up the select shops BEAMS to which he was the founder, and participated in its establishment. He became the manager of the first BEAMS store and after achieving producer-like skills he became the managing director of BEAMS and retired in 1989. In 1989, with the joint investment of WORLD LTD. he founded UNITED ARROWS LTD. to which he became the President and Managing Director. From April 1st 2012, he was inaugurated as the Chairman and Director (he was still the President and Managing Director when the interview was conducted.)
Website http://www.united-arrows.co.jp
Photo by Yuuki Honda
Join us on Facebook
Twitter