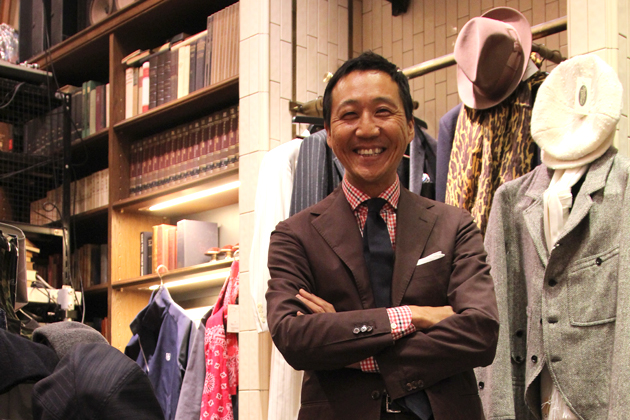 Interview: UNITED ARROWS Creative Director Yasuto Kamoshita
Yasuto Kamoshita is a founding member of UNITED ARROWS. His fashion sense has earned respect worldwide and in 2007, he launched his own designer brand "Camoshita", applying his 20+ years of experience as a buyer. Directing UNITED ARROWS as both a creative and men's fashion director, we asked for his thoughts on the company, select shops and Japanese fashion.
I therefore held two positions as a store member and as a buyer.
JAPANTWO(JP2):Please tell us the story behind you becoming a buyer.
Yasuto Kamoshita (Kamoshita):This was before we established UNITED ARROWS, but after graduating from university, I started working at BEAMS as store staff member. I enjoyed working in sales, but my love of products exceeded more than that of the average person and this sparked my interest in buying. I was gradually allowed to accompany overseas business trips and was taken to wholesale stores in Japan. I therefore held two positions; one as a store member and the other as a buyer. I therefore began working as a buyer straight after UNITED ARROWS was established and I currently work as both a creative director and men's fashion director.
Personal judgment becomes the face of the company.
JAPANTWO(JP2):When you buy items, are you aware of what is typically UNITED ARROWS ?
Kamoshita:Honestly, I don't buy items thinking of "what is typically UNITED ARROWS" When I go out to buy, I always have my personal judgment in mind, which then starts to become the face of the company. This is the ultimate difference between us and other companies, giving the definition of "what is typically UNITED ARROWS" I'm certain that through differences in our target, market and location, we can also see diversity between customers. However, thinking about it from both sides, I believe the biggest contrast is the difference in personal judgment. Even if our company seeks the same as other companies, I feel the addition of personal judgment is the most apparent.
Italy is the most dominant.
JP2:Which countries do you go to in order to buy?
Kamoshita:I'm mainly in charge of men's dress clothes, so I have to go and buy in Italy, where they hold the highest levels of exhibitions and productions. Women's fashion is scattered around in cities such as Paris or New York and they often buy clothes depending on the shop or the buyer's styles, but Italy is at the heart of men's dress clothes. I think this is related to the fact that there are numerous factories in Italy with various designers and skilled workers. However, this isn't the place to look for casual wear. Of course you can find casual wear in Italy, but you can also see it in America, France and London. When it comes to dress clothes, in terms of quality and history, Italy is the most dominant.
We constantly want to transform. We want to progress further.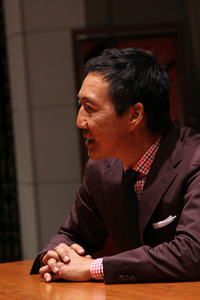 JP2:What do you think of the reason behind select shops having so much support in Japan?
Kamoshita: There are not that many select shops located abroad. There is usually only one and it's more accurate to say that they are stores retained by their owners.
The trait of Japanese customers is that they are never satisfied with a single brand. They draw out their individuality though finding items they want and putting them together the way they want. I believe that's why select shops gained popularity. The reason our company expanded was due to the fact that we were able to respond to the needs of our customers.
Regarding people abroad, I imagine there are fewer people who enjoy searching for clothes by themselves, which we see with the Japanese. Instead, especially in Europe, people enter a store because they've already decided that "this is the store for them". They then return to the same store. You can go to stores which have been passed down from generation to generation depending on the country or city you go to. Obviously there's a difference in hierarchy, history from that of Japan, hence we see a difference in style. That is the reason why old shops can be preserved abroad. However, if we visit the shops it never changes for better or for worse and we end up feeling there's something missing. We're acquisitive and have the urge to constantly transform and progress further, which is why select shops are so popular in Japan.
The importance is the combination of clothes.
JP2:What's essential for select shops?
Kamoshita:It may sound obvious but being able to "select". Even though you buy the same brand, the brand can change depending on the way you shop. This then brings out the meaning of the brand, which in turn starts shaping the store. Finally, your personal judgment comes in. Additionally, styling is more essential than the items themselves. The importance is not what brand of clothes you're going to wear but how you're going to combine them. The joys of combining clothes to make yourself stand out the most, that's what's best about select shops.
We're learning about fashion.
JP2:Japanese fashion is being noticed worldwide but what are your personal opinions on Japanese fashion?
Kamoshita:Japanese fashion and the unique Japanese way of dressing yourself are being recognized abroad. I don't believe there is any other country where you can dress yourself so positively and fashion is expressed so energetically. Compared with Europe which has a long history of (western-style) clothes, I often feel Japan is still inexperienced. That's more of an incentive for us to learn about fashion and clothes from them.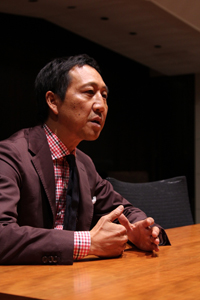 Items are now frequently being imported to Japan, but it's only been 50 years since they entered the market and I feel that sensitivity, aesthetic sense and the joys of fashion are changing into something that is characteristically Japan. I can feel these Japanese characteristic and I'm sure it's more noticeable for those living abroad.
JP2:How do you feel about the Japanese fashion industry and market?
Kamoshita:Japanese fashion is as dynamic as ever. However, I think luxury brands are on a decline. It's the same as having a poor diet or peeling off the gild. We're questioning ourselves, what is important in our lifestyles, what are our essential luxuries? I feel this was spurred by the Great East Japan Earthquake.
I think this is a very positive thing. I feel that the strong image of fast fashion – throwing things away after using them once – won't take root in Japan again.
From our point of view, we feel we've come to a period in time where supplying good quality products to our customers, will lead to the customers using our products for longer.
It seems like it's only been 20 days since UNITED ARROWS was born.
JP2:We're sure that as a founding member of UNITED ARROWS, you were also involved in creating the corporate philosophy, but how do you yourself perceive the vision "THE STANDARDS OF JAPANESE LIFESTYLE"? Do you feel that you are closer to your goal than when you founded the company?
Kamoshita:This is a something we created after we established the company but I feel that we haven't yet reached our goal. We've spent 20 years trying to achieve "THE STANDARDS OF JAPANESE LIFESTYLE" but the standard can't take shape so easily. I feel it's going to take 100, maybe 200 years. If you think about time in this way, it's really like it has only been 20 days since we were born – we're still just a baby. I'm confident that what we offer are similar to Japanese aesthetics and sensitivity, and this will become a definitive standard of Japanese originality. We proposed this goal as a potential for progress.
A message to the readers abroad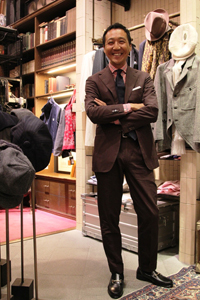 JP2:Finally, please give a message to the readers abroad.
Kamoshita:Japan inspires interest because it is an island. I believe this to be the leading reason for the spirit of a true artisan or craftsman, as well as the determination and high quality unique to Japan, continuing to this day. What we must preserve during this current excitement for globalization is localness. Supporting localization will ultimately prompt the appeal of Japan to the rest of the world. What I would like to say to the readers abroad is that behind each individual Japanese culture – fashion being one of them – is the spirit of a true artisan or craftsman. Japanese culture is being reassessed within Japan even now. I would like everyone to come and see Japan and Japanese fashion with these things in mind.
Yasuto Kamoshita UNITED ARROWS Creative Director
Born in 1957. He joined BEAMS after graduating from Tama Art University and has experience in retail, menswear design and buying. After resigning in 1989, he became involved in establishing UNITED ARROWS LTD. In 2007, he launched his own brand "Camoshita". He is currently a creative director and has a wide range of roles as a buyer, clothing designer and supervisor of store interiors.
Website http://www.united-arrows.jp
Photo by Yuuki Honda
Join us on Facebook
Twitter