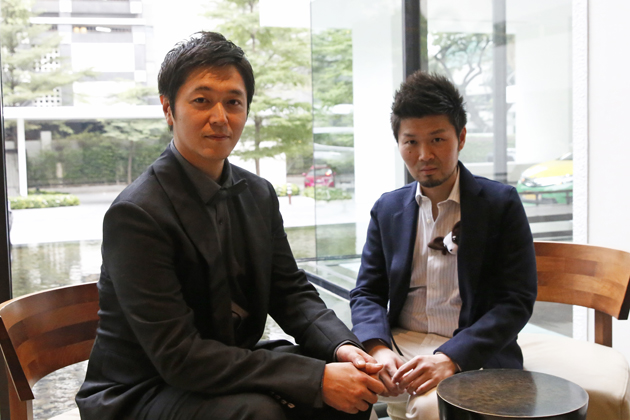 Interview with Zaiyu Hasegawa and Hiroyasu Kawate
JAPANTWO(JP2):Mr. Hasegawa has been awarded Asia 50 and Mr. Kawate was awarded One to watch this time. Please tell us what you think about it now?
Chef Hiroyasu Kawate (Mr. Kawate):I'm honestly happy because it was my dream as a chef, and also personally. Recently Asia's 50 Best Restaurants (referred to as Asia 50) has been attracting a lot of attention, differs in the sense from the tradition of Michelin so I was hoping to go on the stage regardless of the order.
Florilege has relocated to a new venue from its original place where it started. I was confident in myself that the opportunities would definitely increase. This was my intension to relocate so Asia50 has been always in my mind. Then I've heard that I was chosen for the award of One to watch, I was so happy last winter. Because only one to watch was announced separately at January this year and earlier than other winners, the situation that the contact come one after another from all over the world such as customers from abroad, media and journalists. In such a situation, the number of opportunities to receive coverage and interviews from overseas media is increasing, it reflects on the weight of the award and the responsibility. Since I have come to Bangkok, I feel that the importance and the responsibility from being awarded, this is not just an individual personal dream. The situation is that I enjoy both feelings of joy and of significance.
Chef Zaiyu Hasegawa (Mr. Hasegawa):Mr. Kawate and I were talking about that 'we want to be in Asia 50 one day' when it started 3-4 years ago. I have also received the award of 'Featured chef in Asia' from Diners last year. We were talking to each other just after Mr. Kawate was awarded one to watch that 'I could not make the Asia 50', then I was informed that 'I entered into Asia 50.'
In fact, it was a very familiar feeling as many chefs from the World 50, Latin America 50 including Asia 50 were visiting my own restaurant DEN, it seemed to be so close yet so far away. I was wondering why so many chefs were coming to visit my restaurant. Recently my opportunities to cook overseas has been increasing and the other chefs were asking me 'why you were not coming into the 50?' This was not my choice and I wished to be chosen someday.
When I was informed about the award, I thought 'we were in finally!' I believe the award is the result of our challenge to new form and creation among the category of Japanese cuisine, also with combined awareness from our staff on how we can contribute to the customers enjoyment every day.
Although no doubt our staff and customers were puzzled from serving Dentucky, it gave me a huge confidence and now I can proudly say that 'this is our style.' The announcement of the award order is tonight and the evaluation of our contribution and entertainment to our customers will provide our future.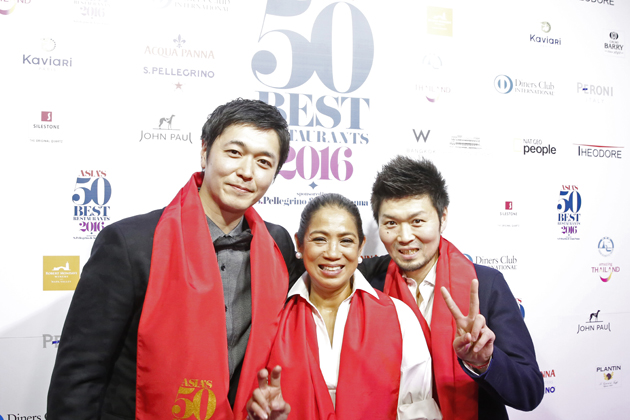 JP2:Both of you have been awarded at the same time and it is very meaningful. Please tell us what you think about each other and how you respect each other?
Mr. Hasegawa:I honestly feel that 'his dishes were delicious' since very first time I have had Mr. Kawate's cuisine. In his way, there is a premise that his dishes are absolutely delicious. Surprisingly it is very difficult to keep the premise while changing staff and changing the chef's concept and so on. Also there is an image that many French chefs confront with the customer with the dishes, in Mr. Kawate's case, it is a little bit different from other restaurant, I imagine that the proposal or capturing the customers while maintaining a sense of fun. It might not be correct but as if he shows a little difference and I guess that it is one of the new things among the French. Also his attitude to always continue to challenge new things. I admire his footwork is amazingly quick when he makes his decision.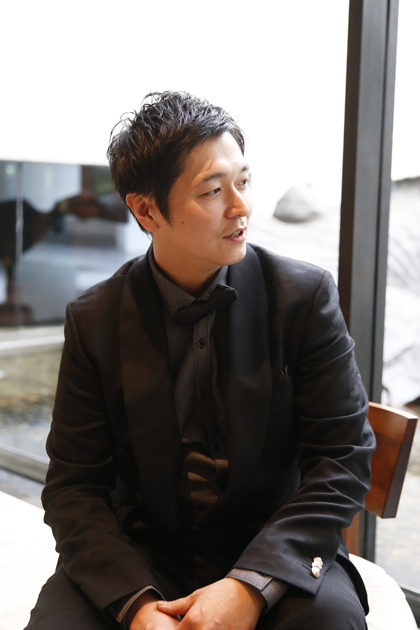 Mr. Kawate:Chefs and people involved in the restaurant industry in Japan are still, or it could be unconsciously, thinking of Japanese customers first or based on the customers in Japan. However, Mr. Hasegawa is already thinking based on the world 'our customers in my restaurant are not only Japanese!' Unfortunately the reality is very little number of Japanese chefs have opened their eyes to the world. Also Mr. Hasegawa adds a little bit extra as his personality while protecting the concept and the framework of the traditional Japanese cuisine. Furthermore, he shows his customers exactly his personality as his story. It is one of the reasons that the overseas customers visit DEN.
When the restaurant is able to tell their thoughts and stories to customers, the customers are able to tell other customers. It's mouth to mouth, if a person tells a decent story accurately, it is likely to convey to other people. Things that are difficult or difficult to understand will end up with no transmition. Doing what no one is doing technically and ideally, I believe that Mr. Hasegawa is 'a chef who is aware'. He is aware of what we do not notice and make it real. Also there is no hesitation. He performs even the things that confuses me or makes me hesitant. This could be his talent and I can tell that this is a rare Japanese chef who can do such things.
For French chefs, there is an atmosphere that always needs new creations but for Japanese it is the exact opposite. It is required to provide the same form in the dishes and the ingredients every year with the sense of each season. However, Mr. Hasegawa produces a new creation as well as taking their balance. Only Mr. Hasegawa can create such a representative method as a Japanese chef and I believe that he was chosen in the 50 makes sense.
Mr. Hasegawa:Mr. Kawate does not consider 'Impossible' in his strategy and approach. He always thinks 'how you can do it' or 'it is good' without hesitation. I thought the way of thinking is good. Actually it was 'to represent Japan' when Florilege was reopened. He removed the restriction on foie gras because it was increasingly what the customer said 'I'd like to have chef Kawase's foie gras again.' It was represented in the way of present thought Mr. Kawate's, the previous popular menu of the foie gras and the meringue is completely different. I suppose he is a chef who always thinks like this and expresses this in his cuisine.
By the way, I seem to be 'if I cannot make it then let's move on' but as for Mr. Kawate, my impression was that he was always saying 'is it okay? Is it okay?' even when we had a collaboration before. He looks confident while creating, though, in fact he is very sensitive and delicate and I believe he is overcoming little by little from his concerns and goal.
Also Mr. Kawate is very similar to me in that the speed of the movement to the next step is fast and present immediately whatever he perceived. When I was allowed to be in the kitchen of Florilege at the time of the collaboration, he was really observing the audience every moment when I saw Mr. Kawate. It is obvious to do so over a counter in a Japanese restaurant, I can't think any other places where customers were intensely observed by the chefs while cooking as a French chef but Mr. Kawate and his staff do. Although people say often that 'Florilege has many customers because it is affordable price, volume and delicious', only few people understand that the true Florilege's greatness and how they provide their services.
Mr. Kawate:I think it is rare that a chef can have their personal customers. The chef who can fill the restaurant is beginning to have a human nature. I mean a high calibre in a human. It's difficult to say, but somehow, I see that 'he might have some customers in the future' through our young staff. This is going to be another way, of course an excellent chef is good but I believe a little bit extra, as in human nature, is one of the very important elements.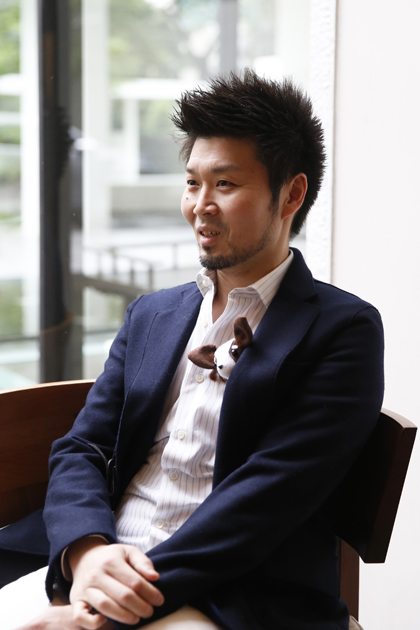 Mr. Hasegawa:I have absolutely the same opinion as Mr. Kawate and my conclusion of being able to run the restaurant is 'people connected to people'. Only concentrated on cooking and the technique is great but there is no customer then I wonder there is the lack of point as mentioned previously.
Mr. Kawate is a chef as well as serviceman. He is always thinking how to make customers happy. If you don't combine both, it is definitely impossible to make a full high-level restaurant and also make repeaters. Make customers feel that 'Want to come back, or I'd like to come back again' rather than only 'to come back again because it was delicious.' Common thing that our customers and Florilege's customers are not seeking only the taste on the day, they are thinking 'what's beyond this' while eating. It's not the right way to say but I think it is okay to fail. Any mistakes within your competence must be avoided, yet the customers would understand if it is a new challenge or he did the best. The customers know that. I felt a pressure from that 'I had to fill the restaurant when I opened, now rather than fighting with the customers through the dishes it has become more relaxed and I have a relationship as the fellow who 'to visit again to cheer me up!'
Mr. Kawate:I expect that Florilege and DEN could visit Bangkok is because of the evaluation from different type of restaurants than previous ones. I feel I came here in Bangkok with our customers.
Mr. Hasegawa:That's why there could be a great chance for other young chefs.
Mr. Kawate:The image might be down because we are far away from the glamorous image.
Mr. Hasegawa:The image of 'a closer chef' might be stronger than a respected chef. I feel most happy with our regular customers to cerebrate for us.
Mr. Kawate:I can tell both Florilege and DEN were awarded as whole team including our customers. Instead of considering only cuisine, it is a whole including staff, customers, producers and the concerned parties.
Mr. Hasegawa:I have the same opinion as Mr. Kawase, many chefs have very narrow vision and look at only the dish (food). Most people are looking at not only dishes, but chefs that means the people. I have had an experience in Bangkok this time, a chef who I never met so far, suddenly gave me a passionate hug, the sense of 'I want to meet' 'I want to go' is not only a dish.
To be continue.
Florilege Chef Hiroyasu Kawate
Chef Hiroyasu Kawate from Florilege. There was "no other choice"becoming a chef as cooking was a part of his life in the environment surrounded by family member that his parents owned a western style restaurant as well as many of relatives were chefs. Began to think at high school age what kind of cuisine suits me, and chose "French cuisine" while receiving a practical training at the restaurant. The decision of career path was made when encountering the flavors that was beyond his imagination and he could spend all his life exploring this cuisine. After graduating high school, he received a training at both "Ebis Q.E.D.CLUB" and "OHARA ET CIE" in 2000. While engaging in another training at "Le Bourguignon" in Nishi-azabu, Tokyo in 2002, and 2 years later, he became a sous-chef. Declared to open his own restaurant in his 20' s, and went to France in 2006. Acquired experience in French training at "Jardin des sence"in Montpellier, France, he returned in 2007. After working as a sous-chef at "Quintessence" , become independent in 2009 and "Florilege" was opened in Minami-Aoyama, Tokyo. Relocated to Jingu-mae in 2015. Creating a new French style without being stereo-typed and "an innovative French cuisine featuring local ingredients to incorporate Japanese taste which is exclusive in Florilege and in Tokyo, Japan." Received one star in the "Michelin Guide Tokyo 2016" in December 2015, and awarded "Asia' s 50 Best Restaurants -One To Watch Award 2016-"
DEN Chef Zaiyu Hasegawa
Zaiyu Hasegawa is the owner of "Den", the Japanese restaurant. His interest in cooking was through the Bento which his mother would bring back from the ry?tei (high-end Japanese restaurant) where she worked as a geisha when he was a young. After graduating high school, he received training at a ry?tei "Kagurazaka Uwotoku" from age of 18 as living and working. Acquired experience in the other various restaurants. Became independent in 2007 at age of 29 and opened "Den" in Jimbocho, Tokyo. It received two stars in the "Michelin Guide Tokyo 2011" just three years after its opening. While appreciating the value of Japanese tradition to incorporate excellent ingredients, the four seasons and unique Japanese culture, as well as introducing a new form of Japanese cuisine that is different from the original Japanese style.
Websitehttp://www.jimbochoden.com/
Join us on Facebook
Twitter